The return of the Toyota Supra took the car industry by storm just a year and a half ago, but what shook the industry even more so, more than just its return was that it is basically a BMW. But, in all honesty who cares how it was born, because it's brilliant. Talk about the original definition of a sports car, the 2021 Toyota GR Supra 3.0 fits it perfectly.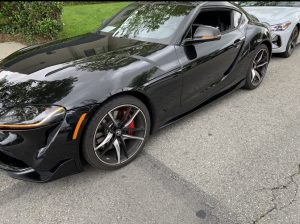 Being a two-seater at just below 3500 pounds with a powerful front placed engine that sends power to the rear wheels, the Supra delivers everything it is supposed to and then some. No, it does not shock one in terms of the performance or leave one speechless, but it does meet all of the hype and expectations perfectly.
Yes, the cockpit might be a bit claustrophobic and there is not a lot of room for luggage, but that is what this car is meant to be; a driver's car, all focus on the road and performance. This may be part of the reason why Toyota chose to partner with BMW, because BMW historically knows what they are doing when it comes to building a driver's car. And boy do they, as for starting at around $50K, the Supra may be the best driver's car for the price on the market today.
It may be rated at 385 horespower, and people may be showing 400 HP on a dyno test, but because of its weight, longitudinal mounted engine, incredibly smooth-fast shifting 8-speed auto, and almost zero turbo lag, the GR Supra feels more like 420 horespower. It rockets off the line with no hesitation, making the claimed 0-60 mph time of 3.8 seconds feel very doable most of the time. But it is still a rear-wheel drive setup and is pretty light weight, so the back end can get squeamish which is not too hard to reel back in thanks to its tight chasis and not being overwhelmed with power unlike a big V8 muscle car.
However, with that said, despite it having incredibly refined handling with effortless reaction time making this car feel like a supercar when darting towards an apex, it does take a bit of experience and knowledge to control. This car is not for beginners who plan on using it for what it is intended to do. Don't be fooled by the price tag and the Toyota badge, as the GR Supra is no doubt on par, if not better than a M2 CS or a Cayman GTS, which it is aimed directly at.
Yes, this may sound like the Supra is for performance driving only, but it has other good qualities that can make it pass for a daily sports car rather than being a track focused performance car. For example, because it does have a hatchback trunk, you can fit a few suitcases and/or a pair of golf clubs.
It also has a very nice usable infotainment center with advanced tech like a heads up display and wireless apple car play. But, this all doesn't mean its going to be the perfect road trip car, or grand tourer per-say. The seats are decently comfortable but a bit stiff, and although their is a normal driving mode which makes it a more pleasant quieter interior, the droning from the wonderful inline-6 turbocharged engine can be a bit annoying after being in the car for a couple of hours (unless your a true enthusiast who will just want to hear it sing all of the time).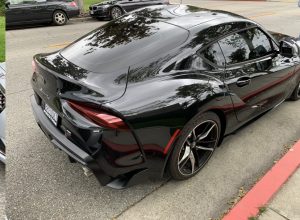 So, overall Toyota has knocked it out of the park with the Supra, whether or not its a BMW or not. The Supra is the perfect fit for someone with knowledge and experience with sports cars who doesn't want to break the bank on a German car, but still wants that nimbleness, precision and power that a driver's car brings.
-Overall: A-
-exterior: B
-interior: B-
-infotainment: B-
-sound system: C
-comfortability: C
-storage: B-
-trunk space: A-
-driving modes/adjustability: D
-handling: A
-brakes: C+/B-
-power: A+
-acceleration: A
-standing acceleration: A-/B+
-engine sound: A-/B+
-overall performance: A-