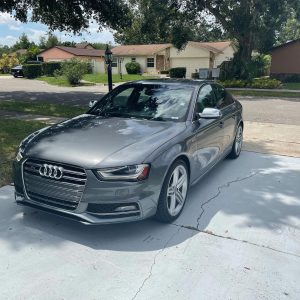 What makes a great sport sedan is a vehicle that checks all of the boxes with a bit of fun, and the 2014 Audi S4 is that vehicle. Not only is it sleek looking, luxurious, and fits a small family of 4, but it has quite a kick to it when one puts their foot down. Worried about losing traction when having fun with the family in the car? Don't worry, the S4 is equipped with Audi's claim to fame Quattro AWD system.
The Quattro AWD system IS the Audi brand. Yes, it can certainly hold its own through a blizzard, but it also has a big part in the performance of the Audi vehicles, like with the 2014 S4. It pairs perfectly with the 3.0L Supercharged V6 that is mated to a wonderfully smooth 7-speed dual clutch transmission. All these factors as well as the 325 lb feet of torque help this little pocket rocket rip out of a corner with great control like its any other day.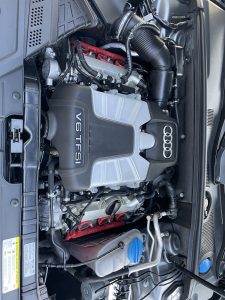 333 HP may not sound like a whole lot of power, but thats all it needs to own the compact luxury sports sedan segment. Because of it's compact size and the AWD system, 333 HP gives this little dynamo plenty of juice for passing power at high speeds along with help from the very quick shifting dual clutch transmission. Whether just cruising or on a race track the transmission always knows what gear to be in and shifts like lightning when needing to switch it up.
Not only is the S4 a blast of a daily grocery getter or daycare mobile in terms of the driving experience, but also quite pleasurable and special experience inside the cabin. Aside from all of the S4 badges everywhere, the seats are nicely bolstered, the materials appear high quality, and the infotainment center does the job. However, there are two negatives being that the seats are a bit firm and don't provide much cushion for long trips, and the infotainment center has a bit of a learning curve.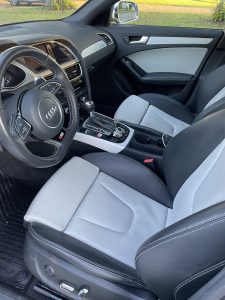 All in all, the 2014 Audi S4 is the perfect luxury sports sedan for a young executive or a young small family. The combination of performance, comfort, convince and features makes it arguably the leader of its segment. Overall, the S4 may look basic, provide segment standard features, and not blow away the competition on the track, but it does feel a bit more special than others, and at a decent price point of $50K original MSRP at that; and bonus, IT WAS OFFERED WITH A MANUAL TRANSMISSION.