Who would had ever thought that a Kia could hold its own on a race track, but the Stinger GT can certainly do that. With a big help from former M division leader, Albert Biermann, the Stinger was tuned/developed on the famous N ring in Germany. So, don't get sidetracked by the Kia badge, because this thing can boogie.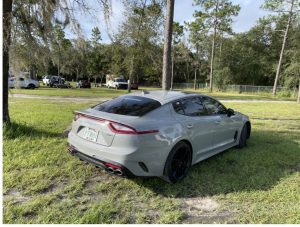 Yes, the Stinger is a big 190″ long, 4000+ lb family sedan with a cheap sticker price, but it's as much of a sports car on the track as a two door German coupe. Aside from its sweet 365 HP twin turbo V6 power plant, the suspension and handling is quite refined. The steering feel is a perfect blend of heavy and light, thus resulting in a very responsive turn in with help from the grippy Michelin Pilot S tires.
However, as expected, when in the turn there is some very noticeable body roll. And also as expected, when exiting the turn there is some understeer, but with an experienced driver behind the wheel with some confidence to throw the Stinger more aggressively into a turn, the backend will get out very easily despite being AWD.
Despite the impressiveness of the Stinger handling a turn on the track like a German champ, reaching the apex and continuing on down a straight away is where it disappoints a bit. 365 HP feels quite powerful on the streets, but on the track the Stinger feels underpowered.
Coming out of an apex at about 40 mph, the Stinger struggles to find its legs a bit, resulting in barely breaking the 100 mph barrier on a bit over a quarter mile straight away. Which is quite odd, because the Stinger is rated at doing the 1/4 mile from a dig at approx 108 mph. This could be due to the max horsepower being available super late at 6000 RPM, which is frankly hard to be at when coming out of a apex because the redline is at 6500 and the driver has to be playing with the paddles at the same time as getting the car under control.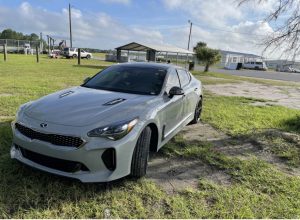 Regardless of the lack of power availability of the straight away on a track, the Stinger packs a punch on track day and not just for daily driving. For starting at $43K and being a big bodied family sedan, the Stinger is quite track capable. Not saying it is super impressive, but it no doubt holds its own against it competitors the BMW M340i, Audi S5, and Mercedes C43 AMG, being at least $12K cheaper and maybe even more reliable, as it can stomach a full track day and a 2 hour drive home. Don't mistaken the Stinger for a track car, but it is certainly more capable in the performance segment than a basic sport sedan.