Apple CarPlay and Android Auto are changing the game. The advancement of infotainment in cars today is advancing so quickly with so many features, that it's getting to a point where it's too much, or too much of a learning curve, that it is a distraction. However, Apple CarPlay and Android Auto simplify that.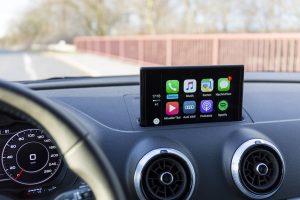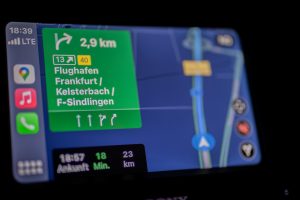 These days people can not live without their smartphones. Constantly checking their email, social media accounts, texts, etc. So much so that they have basically memorized how to use every function; especially anyone under 35 years of age with whom it is just natural. So instead of having to learn the functionality of a car's infotainment, one can simply just plug their phone into the USB (or USB-C) outlet and the phone's screen is mirrored onto the car's screen. 
This is a huge help as anything you do on your phone such as the map system you use or texts coming in and going out (as well as phone calls) is all mirrored onto the car's screen. This doesn't require a bluetooth connection. Anyone can get into the car and plug their phone in and in just seconds have access to the world. 
Since the evolution of smartphones, "apps" have become king in the technology space, so naturally what everyone uses on an everyday basis would need to be integrated into the car, as that is one's everyday transportation. The first so-called "hints" or "concepts" came in the form of car-specific interface apps like Pandora. The Pandora app was available in an apps store on the car's infotainment that you could link your account to. This was around 2010-2011 when these integrations began to come into play as most basic models, not just the luxury models, were beginning to come with infotainment screens. 
The concept of Apple CarPlay, the way it is today, was first produced by Apple along with BMW's Group Technology office in the USA. But soon after that project folded with BMW announcing in June 2013 that their cars would not support Apple Carplay.
The first public launch of it was in 2014 at the Geneva Auto Show with Ferrari, Mercedes, and Volvo being the first to get it. The Ferrari FF was the first to have the full version of CarPlay. Then from there the list of cars adopting it began to grow. First it was mostly CarPlay like features integrated with the existing infotainment of the car, then later on the full version. It really wasn't until the debut of the 2018 models across most brands that the full version of CarPlay was used. 
Even today some model cars are still just recently adopting the full version. For example, Lexus has finally adopted it but only in some models; the IS still doesn't have it, yet it does have the apps available in the existing infotainment. Meanwhile, others are advancing with it such as the new Toyota Supra offering wireless Apple CarPlay. 
Apple CarPlay has become such a phenomenon that lots of aftermarket infotainment screens and plug-in adaptations have become available on the market to integrate into older cars. The demand is certainly high as over 75% of smartphone users have an Apple phone. This is also the reason for Android Auto being about a year or two behind (became fully available in 2019) in debuting. There are still plenty of car manufacturers on the market today that are not offering Android Auto, including BMW, Acura, Alfa Romeo, and Audi. 
Despite Android Auto being late to the party, both that and CarPlay have become such a necessity despite cars offering tech in their infotainment way behind our imagination. The reason for that is simple; the sheer fact that our smartphones are the most important tool in our lives; the advancement of technology in the palm of our hands.
For more info, check this link out: https://www.purecars.com/apple-carplay-changing-the-telematics-game/