The Alfa Romeo 4C. Ever wanted to know what it feels like to drive a go-cart on public roads? Well, the Alfa Romeo 4C gives you just that experience multiplied by a lot. For a starting MSRP of $67K one would take one look at this car from the outside and inside and then think, who in the hell is going to pay that kind of money for a 230 HP with a bone dry interior, when a car like the BMW M2 is available for around the same price? But, the minute you get behind the wheel and take it on a canyon road, you forget all about the price.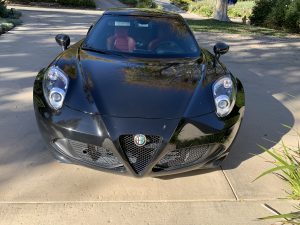 After all, this race car from Alfa Romeo is more aimed towards the high end customer who is after a track focused car to add to their collection. Really, the only comparable car in this segment is the Lotus. The 4C drives with only one focus and purpose, and that is purely performance with the driver in total control.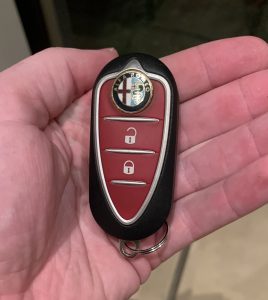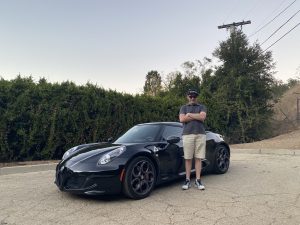 The only downside to the performance of this car being a truly great driver's car is that a manual transmission is not offered. They could have at least had aluminum paddle shifters mounted to the column, but instead they are plastic and on the wheel. But, regardless, the 6-speed dry dual clutch is tremendous.
No it's not high revving, as it is a small displacement turbo 4cyl, but it is incredibly quick whether its in manual mode or not. The acceleration is also blisteringly quick at around 4.0 seconds 0-60, and not to mention 60-100 on the highway feels fast, reaching illegal speeds in no time. With only 237 HP and 258 lb feet of torque coming from a 1.8L 4cyl single turbo, all of it's impressive and wide opening performance numbers are all thanks to a mid-engine placement and a curb weight of under 2500 lbs.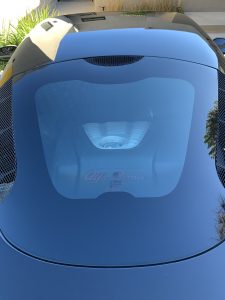 This allows for the acceleration and power tracking out of a corner feel like double the advertised specs. However, the steering/handling is not as smooth and spectacular as one may think. Yes, it does dart into an apex, and yes it does have a great response to steering input, but it's super raw rather than refined like it's sibling the Quadrifoglio or a BMW M car.
The 4C really is a go kart with a roof as the ride is rough, the engine is loud (making all of the wonderful sounds a turbocharged car makes with drones and blow off), and the steering requires a lot of input, but that is what makes it one of the most fun experiences an enthusiast can have. The lack of infotainment, having to sprain all of your muscles in order to get in and out of the vehicle, and the lack of power steering are all mute points in the 4C as it redefines the driver's car here in the 21st century.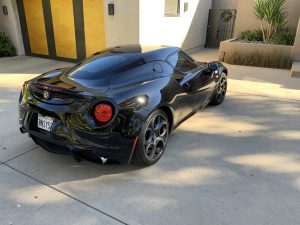 My experience captured on video (raw footage): video 1, video 2, video 3
Ratings (A-F scale:
-exterior styling: A
-interior styling: B
-infotainment: F
-sound system: C+
-comfortability: C+
-storage: B-
-trunk space: B+
-driving modes/adjustability: A-
-ride quality: B-
-handling: C+
-brakes: C+
-power: A+
-acceleration: A-
-standing acceleration: A+
-engine sound: A
-fun factor: A+
-overall performance: B
-overall: B+
Bonus: check this article out.
My experience captured on video (raw footage: video 1, video 2, video 3