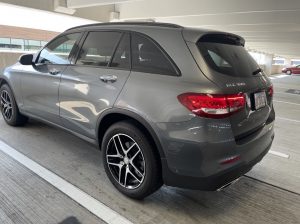 The 2016 Mercedes GLC300 with 4Matic may be one of the best bargains on the market for people looking for a mid-size family SUV, as for around $45000 (2021 adjusted inflation) one can get a luxury vehicle at its finest. Instead of paying full boat for all the bells and whistles on something like a Honda Passport at $44000 that doesn't feel special at all and drives like any other SUV, the GLC300 offers that special twist at the same price. So, why is the GLC300 such a great option?
The reasons are endless, as it wasn't until recently that the lower scale brands began to come up to par in terms of quality with the luxury players, with things like nappa leather, ventilated seats, a smoother more responsive engine, more expensive materials in the interior, ect. The second one steps inside the GLC300, they are greeted by luxury, as by first glance the materials are upscale, rather than a bunch of plastic. The seats are quilted leather which screams special. The steering wheel is nicely firmly rapped with the big Mercedes Star in the center. But, it's not just the interior that feels special and looks swift, as it all translates to the outside.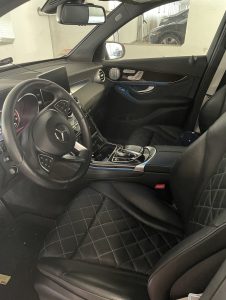 The exterior of the GLC300 doesn't necessarily have a unique look to it, but again, considering the price (and what one would be paying for the highest trim on a lower end brand) it still stands out with what seems to be high quality paint and good looking body lines, rather than a boxy look. It's a look combined with the interior that is a fashion to impress. But, this SUV is not just eye candy as the way it drives is as relaxingly fancy as its body lines.
The other difference from the lower end brands at this price point compared to a luxury brand like this Mercedes, is the powertrain. While it wasn't until recently that the lower end brands have transferred from big clunky V6 engines to turbo 4cyl engines, the Germans have been doing it for longer, as that is what this 2016 GLC300 offers. While rated at only 241 HP and being a good sized SUV, one would think it might be sluggish; not at all. The 2.0L Turbocharged 4cyl engine is quite peppy (torquey), and not to mention, incredibly smooth with its 9-speed automatic transmission. No matter how peppy it might be despite whether one switches it over to Sport+ mode or not, the luxury interior, smooth ride, and effortless necessary power, it doesn't make one feel like they need to go fast, as it keeps one in a nice relaxed state. But, there is a little annoyance to go with that "sipping cocktails on the beach" kind of state.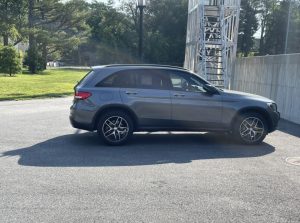 Although it wasn't until recently that the luxury brands like Mercedes began to upgrade their complicated infotainment centers, it still is no excuse for a 2016 model like this GLC300 to be confusing as hell. Not only is it not a touch screen, but the layout of the pages and how to navigate them with the scroll wheel is a tedious task. So much so that it does take one out of that vegetated state when driving to take concentration off of the road in order to navigate the infotainment to just simply change to the next song for example. So, the infotainment is the only real negative thing about the GLC300. Overall, this mid-sized luxury SUV is a A+ being as it is only $45K offering a smooth ride, endless luxuries, great cargo capacity, and styling that makes one feel like a boss.
-exterior: A-
-interior: A-
-infotainment: D
-sound system: C+
-comfortability: B-
-storage: B
-trunk space: B
-driving modes/adjustability: A
-ride quality: A
-handling: B-
-brakes: A-
-power: B+/A-
-acceleration: A-
-standing acceleration: B+
-engine sound: B
-fun factor: B
-overall performance: A
-overall: A